Finance is an essential building block of business renewal and growth.  All great businesses require finance to transform idea into action as they pursue a growth journey.  While your journey is unique, your need for finance is common for scale-up businesses.  Financing efficiency is paramount as companies have only finite time and management bandwidth to raise the proper type of finance.  Inefficient finance processes can burn time and energy. Efficient finance processes can bring tremendous value to your scale-up flight.  Efficient finance solves for a sequence of constraints around what amount, what type and from whom.  Each of these finance constraints can only be solved with market intelligence and deal making expertise.  The end result is a finance solution that satisfies your unique need, and allows your scale-up vision to take flight.
At Attract Capital, we believe that every company has a right to an efficient finance process, to a truly unique finance solution that satisfies a need for growth or acquisition capital. We are finance experts that lay out options and quickly turn them into finance realities for you.  The Attract Capital efficient finance process has resulted in many successful capital raises and growth flights for clients.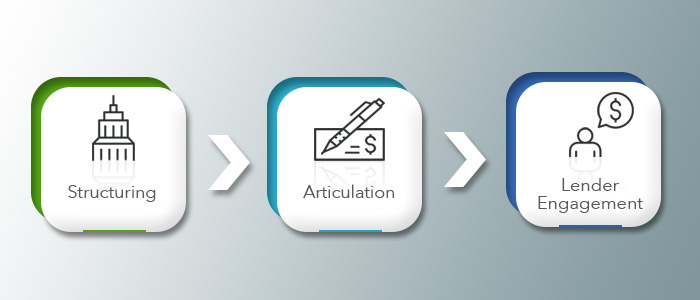 Our efficient finance process consists of three steps – structuring, articulation, and lender engagement.
Structuring gives you the right sized loan with customized features.
Articulation gives you a growth story that highlights your strengths and drives lender interest.
Lender engagement quickly introduces your company to a large number of quality lenders.
Efficient finance pays off when you can exploit market nuances and raise capital from lenders that would ordinarily come from equity investors.  When deals are properly shaped and articulated, lenders gain comfort and provide larger loans. This reduces or eliminates your need for equity, allowing you to continue to own 100% of your shares.  When you can get a loan to behave as equity in your transaction, it is a big win for the owner.   The Attract Capital efficient finance process works for mid-market companies with the following characteristics:
Revenue greater than $20 million and growing.
Acquisition driven or roll up driven.
Need a check size of at least $5 million.
Privately held with one owner or an independent sponsor who is acquiring.
Successful use cases for our efficient finance process have been:
Acquisition roll ups where the focus is on serial deals to build scale and market footprint.
Acquisitions by Independent sponsors.
Company to Company acquisitions.
Buy outs where the sponsors have little equity to invest but can get a great deal from the seller.
Growth capital for rapidly growing companies that need to fund expansion, working capital and development.