Posted on: September 12th, 2014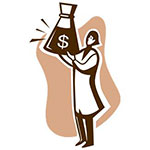 With mega cap mergers in full swing, the dollar store acquisitions are instructive. As an economy, we seem to be resigned to a fate or low growth.
With joblessness a huge problem and declines in per capita income, the dollar store industry would seem well positioned for strong organic growth. If people are stretching their budget, the dollar stores are the place to do it.
Back during the early days of dollar stores, in the late 1980's, these businesses were seen as counter cyclical and defensive plays. Slow economic growth was their friend.
Yet, with Dollar General seeking to acquire Family Dollar, I am left to ponder – is the economy so bad that even these guys can't achieve acceptable growth rates. There are no new markets that can support new dollar stores?
Dollar General grew its same store sales about 3% in 2012 and is on track to do it again in 2014. That is a respectable level.
Yet, when a company buys a large competitor, it does raise a question as to its ability to sustain its own growth.
While there are strategic and efficiency reasons for this merger, I suspect that the folks at Dollar General may be telling us something about the real condition of the economy- that it's not good and that real unit growth is hard to sustain. Yikes!