Posted on: September 25th, 2017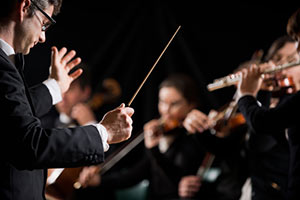 Deals are like symphonies – they have multiple movements, players, drama, and a nail-biting crescendo as the deal comes to a close. The job of a deal team conductor is similar to that of a classical orchestra conductor.
They coordinate all of the team members and ensure that everyone is on the same page throughout the deal journey.Whether it is legal, due diligence, relationships, or lenders – the deal conductor must orchestrate all of the pieces to move the deal along to a harmonious conclusion.
There may be a few missed notes or discordant tones along the way, but keeping everyone on key and in tempo is important. Deal orchestration is optimized through having an experienced person handling the baton, who understands the role of each player.
Communication is critical for the conductor. Throughout a symphony, there are solos where certain players or sections take prominence. The Conductor is there to not only to accent these high points but to ensure that other sections are on their toes and synced into their supporting role in the piece.
Deal team advisors play the same role within their environment. They know how the piece unfolds and know who to focus on throughout the journey. One moment it may be buyer's counsel, another time it may be the lender.
Regardless of the party, the advisor constantly communicates to all parties to ensure everyone is on the same page, moving along, in a state of melodic equilibrium. With the team conductor on the podium, the best players are assigned to the pit for the performance.
A carefully picked transition team is essential for the successful outcome of the deal. Each team member should have a well-defined role, which is regularly revisited and revised as work moves forward on the project.
The skill level and experience of the transition team will largely determine the execution success of your deal. Armed with the requisite experience and proper instinct, the conductor will have the right people playing in the deal team.
The deal symphony will unfold and close as a rousing success. If you're looking for a conductor for your deal orchestration, reach out to us.
Attract Capital is a financial firm dedicated to helping you take the proper steps in your business deals. Questions or comments? Please email me at [email protected] or visit www.attractcapital.com.